Universal EDI
With Universal EDI, one connection to UniLink connects you to the world—any trading partner, any file format, any hardware or software.
A single link places us at the center of the information exchange, where we perform the necessary data mapping and translation between electronic formats. Regardless of the document type transferred and the destination system's capabilities, each party sends and receives the data in their preferred format, error free.
It's a solution:
Customized to your needs

Compatible with your existing workflows

Suitable for every partners' requirements

Covering human-readable to custom-coded documents

Designed to scale quickly and easily
Universal EDI revolutionizes your document handling, without changing the way you and your trading partners do business.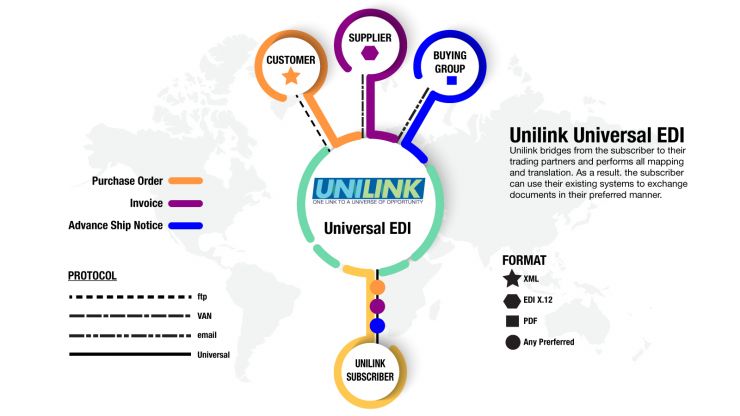 Case Study: Retail Vendor Network
UniLink Universal EDI solved the paper invoicing problem for a national retailer and their 1,000+ vendors. View the case study to find out how the move to UniLink resulted in lower costs, fewer errors, and faster processing.
Link to UniLink Retail Vendor Network Case Study.
Features
Flexible Integration
Universal EDI is engineered to integrate seamlessly with both custom and packaged software. Close partnerships with Infor and other vendors also allow us to innovate our services alongside the latest ERP innovations to ensure continued compatibility.
Smart Maps
Every UniLink map is a smart map. The smart map extends integration by incorporating business logic into the map itself. Built-in rules avoid complex, costly ERP customizations and get around limitations imposed by trading partners' systems. This allows fully automated end-to-end data transmission, removing manual processing steps that would often be needed.
Security and Availability
Security is paramount to every connection we make. Transactions are encrypted, and the system uses public-key technology to verify the integrity of the delivered content. Mutual authentication mechanisms confirm that both sender and receiver are legitimate partners.
Your data is also protected against loss due to unpredictable network or system issues. The system continuously monitors each partner's availability and will pause a transmission if the network for either side is unreachable. When communication is reestablished, delivery resumes. Delivery Assurance guards against catastrophic data loss, enabling the system to automatically select and deploy recovery plans to save or reconstruct your business-critical information.
Customer Portal
The secure customer portal provides anytime access to a transaction's current status and detailed history, along with a human-readable document archive. You can also view your account settings and configure email notifications.
Predictable Pricing
An easy-to-follow pricing structure gives you better forecasting and budgeting ability:
A small one-time fee covers the initial service connection, mapping, and testing
New transaction types are added at a flat rate
The monthly charge includes a set number of transactions
Higher transactions (up to 15,000/month) fall into one of six pricing tiers, with ranges spread far apart to minimize month-to-month variability
Our no-risk setup guarantees no payments are due until we have fully tested and confirmed your connection works as expected.
Cloud-Based Platform
Our data center runs on the innovative Zayo Cloud Infrastructure. This state-of-the-art platform provides you with unparalleled flexibility, performance, and data protection through:
Private cloud deploymentsspecific to your security, availability, compliance, and performance needs
Storage management for scalability and cost-effective handling of peak data volumes
Security management to protect all data (at rest and in transit) against cyber threats
Backup and disaster recovery services for comprehensive protection against data loss and business disruption
Connecting Clouds
Cloud's evolution from simply storing data to now running applications and hosting systems brings new opportunities for cloud-focused integration.
As you and your trading partners shift from discrete systems to ERP and supply chain solutions in the cloud, having a compatible cloud-based EDI system already in place can ensure a smooth transition and ease the burden on IT resources.
Cloud is the future of business, and at UniLink, we're there today.
EDI Forms
Take the first step toward your digital transition with the "Core Four" transaction forms:
These essential forms make up a large percentage of EDI traffic between trading partners. Beyond these four, we support an extensive range to replace many paper documents central to your accounts and the needs of your vendors and customers. Download our full list of standard EDI forms to calculate the number of manual processing steps you can eliminate with UniLink.