UniLink Value
What can you expect when you engage UniLink as your EDI service provider? Increased revenue. Reduced overhead. Stronger vendor relationships and higher customer satisfaction. Plus, immediate ROI.
We become your e-invoicing department, capable of RESOURCESing your entire trading community. Our Universal EDI platform:
Eliminates almost all the paper in your accounts payable processes

Accommodates your existing workflows

Works with any document type you and your partners prefer

Removes inefficiencies and errors associated with manual procedures
And because we manage all the connections and infrastructure, your IT resources feel almost no impact.
Choose UniLink to increase the velocity of your orders and payments, generating smoother cash flow for yourself while demonstrating to partners why you're the company they'll always want to work with.
The monthly time and cost savings are predictable, as are the reputational benefits, translating to continuous growth for your business.
Prior to working with UniLink, EDI projects would take significantly longer to complete and at a much higher cost to our customers. Today we make one call to UniLink and they take care of delivering a superior customer experience on budget in a fraction of the time!
Trading Partner Implementation
Just like our EDI technology, our process for recruiting and connecting your trading partners is efficient and proven effective.
We handle the outreach campaign and all technical responsibilities, so your focus stays on your core business.
Our recruitment strategy includes:
Introductory letters to prospective partners to set their expectations and provide a service overview, answers to frequently asked questions, and the pricing structure

List prioritization to identify which partner connections offer the best opportunities for process improvements and cost reduction

Contact with partners covering the mutual benefits of moving to EDI

Ongoing management of the complete list of converted partners and undecided prospects to maximize your connectivity
Partner Connectivity
Post-recruitment, we close the deal through professional implementation:
We establish your data center connection using your preferred communication protocol, file format, and system directory
You specify customized business rules that we build directly into the document map
We work with every trading partner to establish the same specifications on their side
For both parties, we test for connectivity and successful data transmission before going live
We monitor and manage transaction activity to ensure proper delivery for as long as the connection remains active
Working with UniLink has significantly streamlined the implementation of EDI for our clients. UniLink's can-do attitude and responsiveness in getting new EDI accounts set up, and documents mapped, has made the process smooth and efficient.
UniLink vs. In-House EDI
Advances in EDI technology have made it possible for companies to consider building and maintaining their own in-house systems. From a total cost of ownership perspective, however, self-hosting may be less economical than it appears.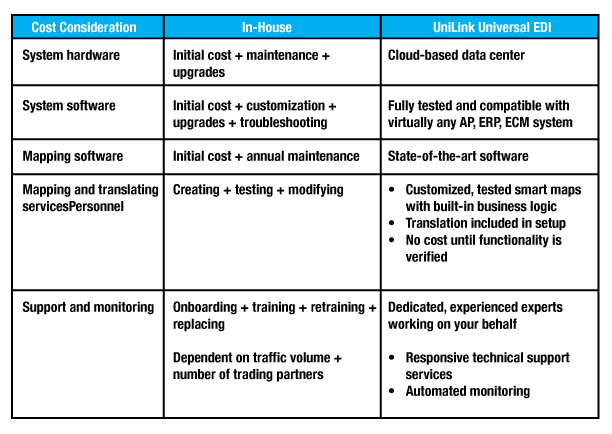 Spare yourself the expense of designing, implementing, configuring, and maintaining an in-house EDI system that you hope is compatible with your most important trading partners. UniLink has the platform and the know-how to provide a robust EDI solution at a fraction of the cost.